This was the fifth recording by Galleon.
It was recorded at the famous Wavestation -
Ljusne, Sweden in July '95.
Released in 1996
Re-released by Progress Records in Oct '01
Line up :
Göran Fors
Song, bass, Taurus bass pedals
and synthesizers
Dan Fors
Drums and Percussion
Micke Värn
Acoustic and electric Guitars
Ulf Pettersson
Keyboards, programming and
Grand Piano
Track listing :

The All European Intro - 9.42
Trafalgar Square - 5.47
The Russian Ice Princess - 6.13
Jack's Slumber Party - 4.26
Paternity Suite - 5.04
Seeking Knowledge - 8.38
European Anthem - 9.55
Repent - 5.25
Total time : 55.17

Record and produced by : Ulf Pettersson
Cover painting by : Mats Frost
The Grand Piano is a Yamaha C6
recorded at Söderhamns Theater -July 1995.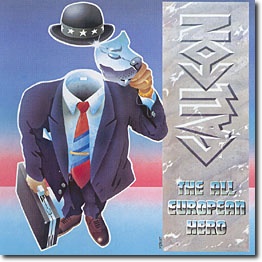 Thanks to:
Mats Frost for Artworks
Per Fors Casio Watch sound
Peter In De Betou at Cuttingroom
for mastering.
Anja Hopf at Zero Corporation
for great collaboration.
The Finnish society in Ljusne for
background voices on "Intro".
Stefan Polzer for "Keeping us up
to date on what is happening".
Anekdoten , Flower Kings , Academia
Manticore etc. for making the Swedish
art - scene so - .... Swedish :-)
Angeline and Lars-Erik Backberg
for caring.
Irene and Emma for patience...